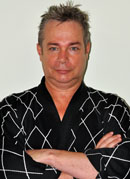 Rank: 5th Dan Black Belt
Year started training: 1975
Favourite kick: Jumping Back kick
Training highlights: Training camps, teaching, demonstrations in the early days
Most inspirational sportsperson: Hubert Opperman (cycling), Jesse Owens (track), Muhammed Ali (boxing), Edmund Hillary (mountaineering)
History:
I started training in Tae Kwon Do club at the University of Newcastle in 1975 and joined the Newcastle class after my first grading. A very young and fast Master Kim Myung Man was sent to Newcastle as instructor in the same year. My first dan grading was in 1978 and was rapidly followed by competing in the NSW state championship. I became the University instructor in 1979 and re-established the Newcastle club in 1980 and taught those classes for five years.
In 1984 I obtained my doctorate in mathematics and went to the University of Technology, Sydney to work as a Lecturer. I opened a Hwa Rang Do class in Glebe a couple of years later. The class moved to Roseville and finally settled in Ultimo where it has been for over 12 years. I now work as a consultant in strategic marketing and customer analytics, and train at least twice a week in Hwa Rang Do.
I believe that learning and practicing Hwa Rang Do has helped me enormously in business, university and life, especially in times of stress and difficulty. Because of training I am fitter, healthier and more flexible than most people I know.
Dojangs: