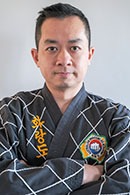 Rank: 4th Dan Black Belt
Year started training: 1992
Favourite kick: Back kick
Training highlights: Demonstrations, Teaching
History:
I started training in Moo Duk Kwan Taekwondo and enjoyed the style.
Due to work commitments, I was transferred from Adelaide to Sydney. I found Hwarangdo and have been training with Master Kim ever since.
The 2 styles have some technical differences and initially, it took a little time to retrain my body, but the further I progressed, the more I found myself training and everything became second nature.
I enjoy the physical endurance training of sports Taekwondo, the precision training for demonstrations, but have a keen interest in the Hwarangdo (or martial art) aspect.
Dojangs: